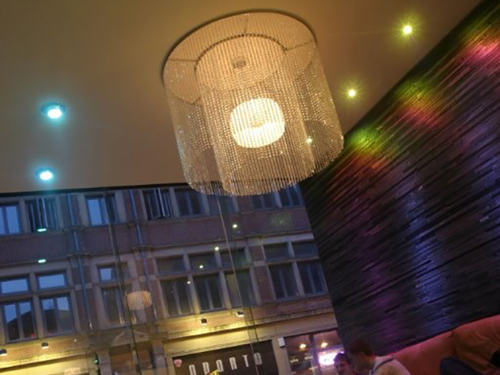 We carried out a electrical refurbishment of the whole of Norman Bar in Leeds, as well as installing a fire alarm, and designing and executing the ambient LED lighting.
As the bar had to be closed to carry out the work, it goes without saying that time was a precious commodity!
We installed a lighting system that worked with DMX controllers to integrate colour changing of various spot-lights with sound system. The light fittings were Italian by iGuzzini, while the chandeliers were commissioned for the project and supplied by an Italian company. We had to build a timber frame prior to plaster boarding of the ceiling to take the weight and spread the fixings for these to be installed.
We also installed hidden colour changing LED lighting to the underside of the bar and to the optics displays as well as colour changing lighting to illuminate a large Slate feature wall in the seated area near the front window.
PLACE: Leeds City Centre, West Yorkshire
TYPE:Commercial client, direct