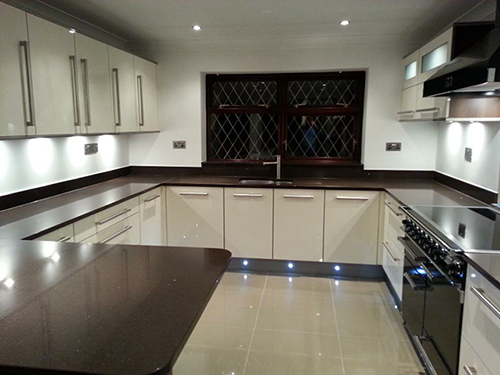 We were asked to illuminate this newly installed kitchen in Ossett, West Yorkshire. As there was little natural light available, the client wished to have various options available such as switching plinth lighting, under unit lighting and LED spot-lights. We also fitted underfloor-heating to keep the room nice and cosy.
We made several suggestions before beginning work, showing other projects and catalogues to the client, as well as explaining exactly what we were going to do. She was very happy with the final result.
This private client gave us permission to use the picture and to mention the locality (Ossett), but wished to remain anonymous.
DATE: 2015
PLACE: Ossett, West Yorkshire
TYPE: Domestic client
INSTALLATIONS: Under unit lighting, LED Spotlights, Underfloor heating